Promising Crypto Projects To Watch In 2022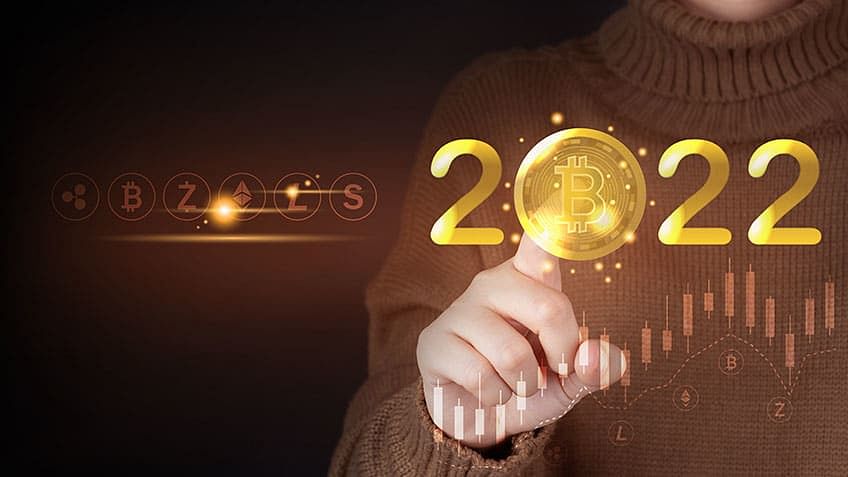 2021 has been a defining year for the crypto industry. From Web3 and NFTs to DAOs and Metaverse. In 2022, there are many more things to expect and see, new ideas to explore, new applications that we hadn't imagined before, and much bigger adoption. As we are moving to a new digital era, crypto and blockchain will play a significant role in almost all industries of the world economy.
In the midst of a bull run you can make money with almost every crypto, even the ones that have nothing good to offer. But what matters most is the long term success and projects with solid fundamentals that are solving problems in innovative ways and can survive bear markets. In the short term, the market is mainly driven by speculation and hype, but there are also many projects that keep building and delivering good products and don't have the attention they deserve, for different reasons. It's time to have a look at some of them.
1) Avalanche (AVAX) — https://www.avalabs.org/
Avalanche is a Layer 0 ecosystem made up of 3 core blockchains and allows anyone to create their own tailor-made application specific blockchains & DApps, supporting multiple custom VMs such as EVM and WASM. Thanks to its revolutionary consensus protocol, It's currently the fastest and most efficient smart contracts platform in the industry. The Avalanche (AVAX) token is the native token of the Avalanche platform and is used to secure the network through staking, transact peer-to-peer, pay for fees, and provide a basic unit of account between the multiple subnetworks created on the Avalanche platform. It is one of very few projects where enterprise use still provides utility for the token. Avalanche is basically creating the Internet of Finance, offering the best place to build DeFi applications and not only.
2) Blockzero Labs (XIO)  —  https://blockzerolabs.io/
If Y Combinator was a Decentralized Autonomous Organization (DAO), what would it look like? Blockzero Labs has the answer. A Web3 accelerator for the decentralized world. Blockzero Labs is crypto's first community-driven token studio and accelerator with a mission to give Web3 builders and founders the community, connections, & capital they need to reach escape velocity. Started in 2019, Blockzero Labs has had innovation at its core and has been a pioneer in concepts such as liquidity mining, governance voting, flashstaking, and more. They have also accelerated projects such as UMA Protocol and Ideamarket. The governance token of Blockzero Labs is XIO. XIO token holders vote for which projects Blockzero creates or accelerates. The newly generated yield and native tokens from these projects are deposited into the Blockzero treasury where XIO holders can earn this basket of cryptocurrencies via staking or burning and vote for the next steps of the DAO.
3) Vulcan Forged (PYR)  —  http://vulcanforged.com/
Vulcan Forged is an established NFT game studio, marketplace and dApp incubator with 8+ games and 15,000+ users. They are also building their own blockchain, Elysium, which will be specifically built for gaming and metaverse projects. Vulcan Forged offers a full suite of tools for game development, and it's on the verge of becoming the biggest decentralized gaming ecosystem. It combines gaming with blockchain, NFTs and metaverse. Their native token is PYR and has only 50 million maximum supply, making it one of the projects with the lowest supply across all Virtual Worlds projects. PYR empowers a growing list of 8+ games and all elements of the Vulcan Forged ecosystem.
4) Safe Haven (SHA)  —  https://safehaven.io/
Safe Haven is a decentralized B2B2C platform built on the VeChainThor blockchain and is building asset management and inheritance solutions on the blockchain. With their solution, they are tackling a growing problem that every crypto investor will face at some point. Safe Haven encrypts data and assets until predetermined conditions are met such as death, illness or other, and then grants access to these funds. Safe Haven is building various products and services integrated with its platform under the term "crypto asset management" and its flagship product is Inheriti Platform which is the first and only decentralized inheritance solution. The Safe Haven ecosystem is powered by their native token called SHA.
5) Trader Joe (JOE) — https://traderjoseph.com/
Trader Joe is a one-stop decentralized trading platform on the Avalanche network that offers leveraged trading by combining DEX services with DeFi loans. Since its launch, the platform has attracted over 4 billion in assets and is now the #1 DEX on Avalanche. Their governance token, JOE, has unique tokenomics and offers many rewards, passive income opportunities and access to early-stage projects.
6) LTO Network (LTO)  —  https://www.ltonetwork.com/
LTO Network is a Dutch GDPR-compliant hybrid Blockchain for securing, verifying and exchanging business-critical information. It is a trustless blockchain that focuses on creating connections and collaborations between businesses. With this hybrid approach the LTO Network has become the first blockchain that is data privacy and GDPR compliant. It is the easiest to integrate Blockchain technology in the market and enables its customers to upgrade and interconnect their business systems seamlessly for a fraction of the costs of its competitors. LTO Network's increasing adoption rate in B2B coupled with very interesting deflationary token economics and a low market cap gives it great potential.
7) Quant (QNT)  —  https://www.quant.network/
Quant is a technology provider, delivering enterprise-grade interoperability for the secure exchange of information and digital assets across any network, platform or protocol, at scale. Quant developed Overledger, the world's first blockchain operating system (OS) that not only inter-connects blockchains but also existing enterprise platforms, applications and networks to blockchain and facilitates the creation of internet scale multi-chain applications otherwise known as mApps. It provides enterprise and developers with what Quant calls "universal interoperability". Quant's Overledger isn't a blockchain, but a blockchain Operating System that runs on top of blockchains to provide scalable Any-to-Any interoperability. It enables interoperability across many blockchains and legacy networks to be processed in parallel rather than being restricted to just 2 connected networks. The QNT token is regulated by the Swiss Financial Market Supervisory Authority (FINMA) as a utility token and has only 14.6 million maximum supply.
8) IoTeX (IOTX) — https://iotex.io/
IoTeX is building the first decentralized ecosystem where humans and machines can interact with guaranteed trust, free will, and privacy. With its own EVM-compatible blockchain, It has the potential to lead the blockchain-IoT sector. IOTX is the native coin that governs the underlying blockchain protocol while being used as the gas for the blockchain protocol. Burndrop (http://burndrop.iotex.io/) is a unique economical design that leads to deflation of IOTX while the number of devices orchestrated by IoTeX increases.
9) Colony (CLY)  —  https://colonylab.io/
Colony is a decentralized, community-centric VC fund for the Avalanche Ecosystem. It provides early-stage funding to Avalanche-built projects and liquidity to established DeFi protocols operating on Avalanche. It also purchases and stakes AVAX in the Avalanche network and operates an index fund comprised of selected Avalanche projects designed to offer diversified exposure similarly to an ETF. All these rewards and returns go back to the holders of the governance token, CLY.
10) Merit Circle (MC)  —  https://meritcircle.io/
Merit Circle is a DAO focused on growing the blockchain gaming economy. Its mission is to maximize value accrual across different games in the metaverse. It is creating a platform at the intersection of capital (investors), expertise (platform and managers) and players (gamers). The project aims to create a new era of gaming where users can make money by playing the games they love. MC is the governance token of the Merit Circle DAO and is also used as a play-to-earn index where each MC token represents a share of the DAO's treasury. Through MC tokens, users also gain exposure to multiple gaming NFTs .
11) XRP — https://xrpl.org/
Αlthough XRP is one of the most popular cryptocurrencies, there is a lot of misinformation about it and it is one of the most misunderstood projects. Created in 2012, XRP is a cryptocurrency that was mainly designed for payments. XRP is the native token of the XRP Ledger (XRPL), an open-source, permissionless and decentralized blockchain technology. XRP can settle transactions in 3 seconds and It was built to be a better Bitcoin — faster, cheaper and greener than any other crypto asset. It is also deflationary as every transaction fee is burned. XRP is used by a wide range of individuals, developers, companies and institutions, who ought to develop innovative value-adding solutions in a decentralized manner. The XRP Ledger has a built-in Decentralized Exchange (DEX) which has been operating since 2012 and makes it the first ever DEX. Apart from all these, NFTs, native smart contracts and sidechains will also be added on the XRPL this year. Finally, the unfair lawsuit that the SEC filed against Ripple, a company founded after XRP by some of XRP's developers, is going to end soon with Ripple probably being the winner. This will be very positive for XRP, as it will gain regulatory clarity and will give the green light for bigger adoption and usage.
12) VerseX —  https://versex.io/
VerseX is building the first complete metaverse and NFT ecosystem on the XRP Ledger with the goal to offer a fully immersive experience for their users. They are targeting brands and businesses so they can utilize the VerseX features and provide goods and services through their virtual world. VerseX has a dual-token economy with XVR being the native and governance token that will be used for all purchases in-game and the marketplace, while XMEN gives access to the 3D NFT characters that will be used in their metaverse and provides special earning rights and extra abilities in-game.
13) xSPECTAR —  http://xspectar.com/
xSPECTAR wants to build the most innovative virtual economy on the XRP Ledger. A multi-purpose metaverse built with Unreal Engine 5 and hyper-realistic graphics and avatars. It has a great team, delivering fast and they are working on multiple things.
Crypto and blockchain technology are changing the world and disrupting a lot of industries. This technology is changing the way we perceive money and value, the way we transact, and they allow us, for the first time in history, to actually own our money, assets and data. This technology allows us to become our own banks and institutions. Web3 is opening doors for millions of people to participate in a new wave of value creation with new business models that benefit creators. We should look for ways to integrate this technology in our daily lives and take advantage of it.
For more visit my personal website and follow me on social media: http://panosmekras.com/
Disclaimer: This article is for informational purposes only and is not financial advice. I hold all these crypto projects and not planning to liquidate any positions in the short-term.